Sweet Precious (Limited Edition)
Sale price Price $129.00 Regular price $179.00 Unit price / per
We often ran out of gift ideas to give our loved ones, and that got us thinking about what could be the most memorable gift someone could give and receive? Here's where you can find the perfect gift! Our Moving Moments book not only helps to resolve all your headaches, but it also comes with modern solutions to gifting. It's definitely a cherished gift to keepsake. Bring your video and photo memories to life with our handcrafted personalized video book that is 100% guaranteed to make them smile.
Good for any occasion such as:
Anniversaries
Birthday
Baby Shower
Corporate event
Farewell
Graduation
Just Because
Valentine's Day
Wedding
Other Special Occasions
✓ Rechargeable
✓ Sleek Design
✓ Audio Jack Friendly
✓ Comes with 3 complimentary printed polaroids (Optional)
✓ A gift for any occasion
*Please note that cover of Moving Moments Book may differ with different monitor screens 
Screen

Book Size

Memory

Battery





7.0" LCD 




   A5 size




2GB

3000 mah

FONT 1
**Capitals Only**

Example:
FONT 2
Capitals and Lowercase
 Example:
FONT 3
Capitals and Lowercase

 Example:

FONT 4
Capitals and Lowercase
Example:
FONT 5
Example:
Customer Reviews
100
reviewers would recommend this product
Write a Review
07/27/2022
Cheryl

Singapore
I recommend this product
Lovely Gift
This is our daughter first gift for her grandparents. Her grandma and grandpa are so happy to receive this as the video show my daughter enjoying her growth with them as they take care of her since she is born. It such a touching moment. Thank You
07/05/2022
Slaine

Singapore
06/20/2022
Babyhmummy

Singapore
I recommend this product
One & Only Super Dad
Order this for my hubby on behalf for my son. I am glad to have this movement book which I find precious photos and moments photos to suprise him for this 2nd year father day. The book look like a chocolate and light design with touch button . When open the book the fireworks opening is very clear and hubby is happy to receive this special book. Beryl, also answer my enquiry and provide clear instruction and update send us sneak preview before she send out the orders to me.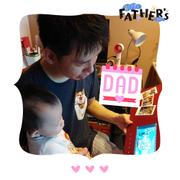 06/06/2022
Levonne

Singapore
I recommend this product
Unique gift to capture each milestone
I chanced upon to-someoneprecious in IG , and was immediately drawn to the "physical digital books" of posts. Was looking for a wedding gift for our dear friend, Beryl has been helpful in answering my queries. As I present this gift idea to my friends , all were smitten with it. After all the digital parts has been done, Beryl was thoughtful to reconfirm all my selected choices, & thank God she did, as some details is hard to imagine upon selection. Our pretty bride was touched as it came from Singapore . Thank you dear and keep up with the awesome service! Highly Recommended !
03/26/2022
Lai H.

Singapore
I recommend this product
An Awesome & Perfect Gift To Someone Precious
It's really a gift that you would like to give To Someone Precious! Beryl was really patient and helpful throughout the process and their service and product surpassed my expectations! She even send a pictures of the actual item of my order before sending it out for delivery and she ensured that the item reached me not just 1 or 2 days before but a few days before the date that I had intended to gift this present. I was not the recipient of the book, the recipient of the book is actually for my younger sister to celebrate her 21st birthday, but when I received the video montage for the first time to review, I couldn't help it but teared from start to end of video because it's so touching! I was not expecting big reaction from my sister who is a tough girl, I thought she would only be smiling and etc, but I didn't expect that she eventually teared too! She wasn't the type to easily tear in front of people even if it's something super touching. Really want to say a big thank you to Beryl and the team from To Someone Precious, your Moving Moments Book can really touch people, and allow us to include what we would like to somebody in messages and videos that we can't bring ourselves to say in person. I have only praises for To Someone Precious and nothing else can describe how satisfied I was with the service and the final product. Once again, thank you!